Now that we're more settled into a routine here in North Carolina, we've started unpacking all our decor and getting things on the walls. We have this large wall above the dining room table that is completely blank:
It's a sad wall. I originally thought about finding a large, free mirror on Craigslist and doing some DIY framing but then I had a genius idea: a sunburst mirror! They're all the rage now, right? I guess. I don't really know; I just thought something funky would look great here.
Did you know they're also really expensive? Sure are! Look at this one…

via Overstock.com
This is definitely my favorite one! It reminds me of an atom. A sunburst mirror with a science twist. Yup, it's just my style. But at $400? No thanks!

via Overstock.com
Here's another great one. Reminds me of a fungus! More science, yay! But again… $275. Way too much for my budget!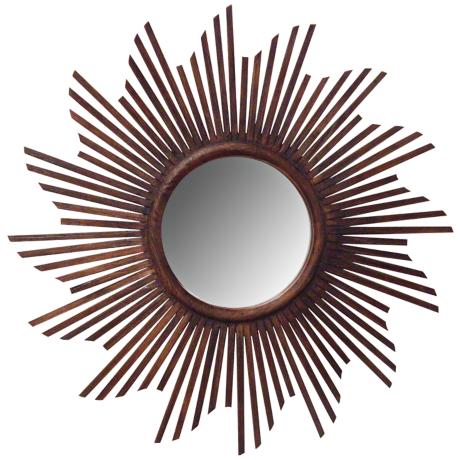 via LampsPlus
I love the lines in this mirror. But with all the other dark wood we have in the house, I think I'd rather have something brighter.
Of course I couldn't go without finding some DIY sunburst mirrors. It's a pretty popular project. Here are some of my favorites:

via march with a K
Leah made this great sunburst mirror with a round mirror, some wooden dowels, and gold spray paint for just $31. Now THAT'S more my price. I love the pattern she made with the dowels. I am really liking the gold she used.

via Infarrantly Creative
Wow, this one is beautiful! Beckie made this sunburst mirror with wood shims. It really is gorgeous but I'm not sure I have the patience for it!
What do you think? Which is your favorite? Have you made a sunburst mirror or bought one?